This week I moved to my next housesitting address. What a place! It is so wonderful to get to live in so many various houses. In every house you feel a different vibe. I moved from an old but beautiful portugese style villa on a cliff with seaview, hopped from one apartment to the other at a great apartment complex, then stayed at another, newer, luxury villa with a pool, to a very old, classic house, with it`s own style. I love it! Even though I can`t really remember how my parents used to live, I think it would have been this style. The lady I am housesitting for, has great 30`s dark wooden furniture, which is perfect combined with the tiling and the old wooden doors, some with glass windows. 
The large veranda looks out over the old salt fields of Willibrordus. The huge garden is filled with cacti, the flamingos feed in the shallow, salt water and wake me up every day with their morning quacks. Parrots fly around noisily and feed on the cacti flowers. Little Chibichibis (bananaquits) are all around, nesting in some old hanging lamps on the terrace and in the garden. Caribbean mockingbirds sing their beautiful song and sit outside the office window on the branches of a tree, nearly close enough to touch. *sigh*  I have to go to work, get things done, but I really just want to sit out there with my camera and capture all this natural beauty! On the hills in the distance, the Kibrahachas (yellow trees) bloom for a couple of days after every rain shower, bringing the bright yellow colour to the otherwise dry and greyish hills. 
I will not be here for long, but I just know that once again, I am blessed to be able to experience such a serene place, with 2 darling dogs, and I am happy to make this my home for now.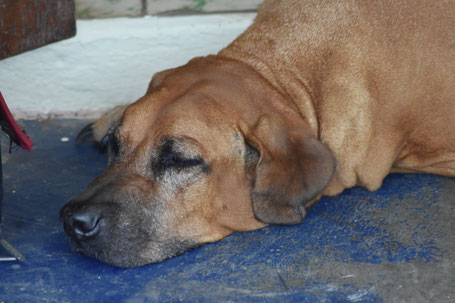 Umu-Lady of the house. Umu is a very special dog, she is not like Nubia, does not run around and be silly. Umu is a mature, silent dog. When laying on the terrace, she gives a little grunt when she hears something, and Nubia jumps up, is on alert and does the barking. Umu watches over the place. She is an introvert dog, does not seek attention, but loves it none the less.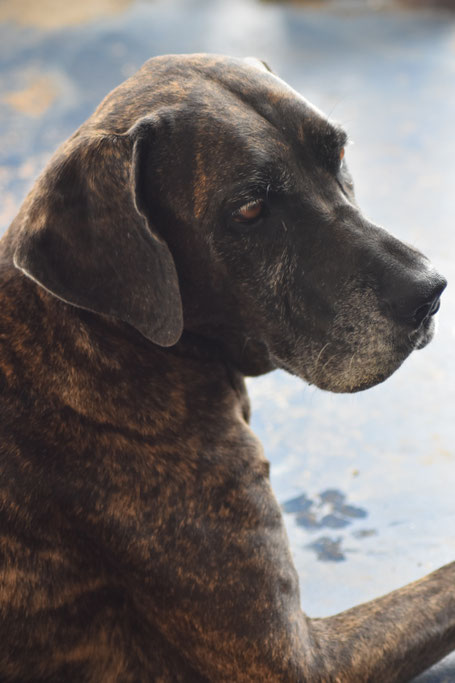 Nubia-one of the two dogs I am babysitting. Nubia is such a happy, playfull character, loves attention, is always hungry, and has her crazy moments in the afternoon. Coming home is such a joy with Nubia, she goes absolutely wild! Runs around and her enthousiasm makes me happy.